I made lots of noodles for gifts for Christmas this year. A much appreciated gift to special friends and family. My recipe calls for 4 1/2 cups of flour and I used 22 1/2 cups of flour over all…..that is a LOT of noodles. I only kept 2 cups worth to make Chicken Noodle Soup the night our family arrived. I have posted the recipe for the noodles below so if you want to make them you can follow my recipe if you wish. The soup recipe is at the very bottom of this post.
Homemade noodles
4 1/2 cups bread flour
2-3 tablespoons water
5 whole eggs
1 1/2 teaspoons salt
2 1/2 tablespoons olive oil
Mix the ingredients together with a large mixer (I use a Kitchen Aid mixer). You may have to add more water if the dough just doesn't come together. I then kneaded half the dough at at time with the dough hook on my mixer for about 5 minutes for each half. I sometimes put the dough hook on to finish mixing before the kneading process as well. If you knead by hand you should knead it for 5-6 minutes until it is very smooth and use more flour if it is sticky. This step develops the gluten in the flour and is an important step. If you have ever had noodles break apart into short sections when you cooked them this may have been the problem. You can find more information about gluten on Wikipedia
here.
I just don't have the strength in my wrists and hands to knead by hand the traditional way (or maybe I am lazy) but the mixer does a good job with the dough hook so I can still get a good product. I place my dough in a plastic bag and let it rest for 10-30 minutes and do this if you are hand kneading too.
At this point you can roll the dough out by hand to the thickness desired and cut into strips but I have a pasta attachment for my mixer and used that for the rolling and cutting. I got the attachment a few months ago and had not used it before this marathon noodle making session and it worked so great. It came with 3 pieces that fit into the top of the mixer. The two that I used are shown below plus there is another cutter to make smaller noodles as well. The one on the right has several settings to roll the dough thinner and thinner until it is the thickness desired. The last step is to change attachments and put on the desired cutter and feed it through.
I cut each half of the dough into 3 parts and rolled and cut each part separately as each section gets pretty long by the time it is rolled as thin as I like it.
Each time through the rollers I fold it in half and in it goes again, next adjust the thickness to the next step thinner. The more it gets rolled through the smoother it gets. I would fold the dough lengthwise first then fold crosswise next until it is the width of the roller before adjusting the thickness knob to make it thinner.
The three strips from one half of a recipe laid on the counter to dry a bit before cutting. As the noodles are cut I catch them with a dowel then hang the dowel on the my pasta drying stand that I inherited from my mother in law. A neighbor made it for her years ago. I think If I were making one now I would want one a little taller so I could put longer noodles on it and not have them puddle on the counter.
I let the noodles air dry for a day or two then break them into the lengths I want them to be and package in plastic bags.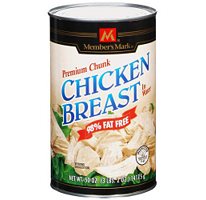 Now because some of you will ask, this is how I make chicken noodle soup. I start with a large can of chicken breast meat (50 oz) that I purchased at Sams Club. You could use any kind of chicken you want but my family doesn't think it likes dark meat so I just use the canned chicken breast. (Personally the dark meat is my favorite!) This is a lot of chicken in the soup so if you prefer use smaller cans or less chicken. Dump the chicken and the broth it is packed into a large cooking pot. I find this chicken makes good soup and is very low in fat as well. I then add several cans of low sodium, low fat chicken broth. I am not sure how many small cans I added but enough to give me the amount of liquid I wanted. (I know not a very exact recipe is this?) I also added 2 medium carrots chopped real fine and one onion chopped fine since I have one grandson that thinks he doesn't like onion but.....what he doesn't see he doesn't know he is eating. I simmered this for several hours to blend the flavors. About a half an hour before serving I brought it to a boil and added the noodles. The amount of noodles is personal preference but I probably added the noodles made from 2 1/2 cups of flour to this large batch of chicken noodle soup. I turned down the heat on the burner after it comes back to the boil after adding the noodles. Simmer until the noodles are cooked then serve and enjoy. After cooking for 15 minutes test a noodle to see if it is done but also taste the broth to see if you need to add pepper or salt. Mine just needed pepper as it was salty enough. My family loves this soup and it is so easy to make too.
Until Later,
Lynn